Contact
William Barney, Luthier
363 Hillcrest Avenue
Louisville, KY. 40206
(502) 741-9782
email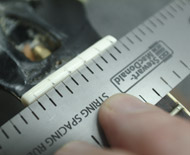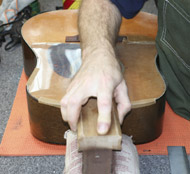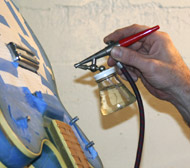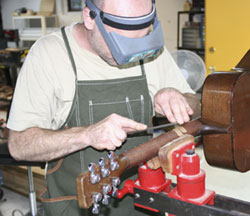 Hello and welcome. My name is Bill Barney, and I operate a luthiery shop specializing in the repair and restoration of fretted instruments. From expert fret work and neck resetting to electronics and routine adjustments, I am confident that I can get your instrument playing and sounding its best. I am an authorized Martin and Taylor warranty repairman with over 15 years experience repairing and restoring new, used and vintage acoustic and electric instruments. My shop is licensed, insured, climate controlled and secure. Located in the Crescent Hill neighborhood of Louisville, KY. It's easily accessible from I-71, I-64 and I-65. All work is guaranteed and will be completed in a timely manner. Repairs are taken by appointment only so please contact me to discuss your instrument. If you reach my voice mail leave a detailed message so I can return your call promptly.
Credentials
2002 to present
Barney's Guitar Service, Louisville, KY.
Owner / Luthier.
An authorized Martin & Taylor service center.
1996 to 2010
Guitar Emporium, Louisville, KY.
Service Manager and Luthier.
1995 to 1996
Bob's Guitar Service, Chicago, IL.
(Now called Third Coast Guitar Service)
Repaired instruments for all Chicago area Guitar Center locations and their customers.
Over the last 15 years I have subcontracted work for other regional music stores as well as performed work for many other national and local musicians.
Clients
I can meet the needs of the most demanding musicians. I have completed repairs for the following artists and many others.
Billy Gibbons of ZZ Top, Duke Robillard, Larry Coryell, Sheryl Crow, Sonny Landreth, Randy Atcher, Steve Cooley, Jeff Guernsey, Steve Ferguson, Will Oldham, Jim James of My Morning Jacket, Dave Pajo of Smashing Pumpkins and many others.